File pairs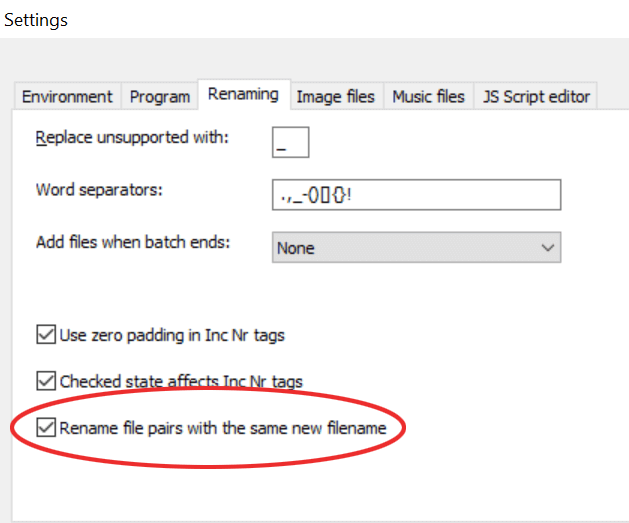 In the settings dialog you can activate file pair renaming. This will make sure file pairs will keep being paired together.
So what is a file pair? A file pair is when two or more files are located in the same folder and differ on the extension. The following is a file pair:
Img_001.jpg
Img_001.tif

This is tree pairs:
Img_00A.jpg
Img_00A.tif
Img_00B.jpg
Img_00B.tif
Img_00C.jpg
Img_00C.tif

File pairs can be common when working with image files, where the same image may exist in different formats. Some cameras may produce both a JPEG file and a RAW file. This is also common for video files.
You can also use this mode to transfer metadata from a media file to a paired file. Imaginge using this pattern in the New Name method:
Img_<Img Width>x<Img Height>_<Inc Nr:002>

For this pair:
Picture_2027.jpg
Picture_2027.txt

The result will be:
Img_2000x1000_002.jpg
Img_2000x1000_002.txt

Note, the media file must be located before the paired file in the list.